16 April 2019
Black Umbrellas, Cyril Ramaphosa Foundation's partner entity that supports 100% Black-owned businesses in the critical first three years of their existence, has a 40% retention of women-owned businesses at its incubators across the country.
This is notable given society's pervasive gender inequalities that disadvantage women and, Black Umbrellas' high standards for selection.
It is well known that women suffer all manner of social and structural barriers to full participation in society, including in the mainstream economy.
Women are not only well represented in the Black Umbrellas incubation programme but are performing exceptionally well."
Gender Equality
South Africa's 2016 Gender Equality report says that women experience higher levels of unemployment than men and are less likely to have a tertiary education. Women suffer high levels of violence and abuse which constrains their movement, access to resources, as well as respectful, non-sexist professional relationships, to say the least.
Black Umbrellas does not implement a policy of deliberate gender affirmation, and that speaks highly of the merits of women in recording not too far off equal rates of participation in the programme as men.
The selection process of incubator clients focuses on the talents and abilities of the owner, the viability of the venture, and the intent to grow a sustainable business that can pay a decent income and create jobs. By the end of the three-year incubation period, businesses must be able to generate a profit, have a positive net asset value, employ at least four individuals, and be able to pay market-related salaries.
Women are not only well represented in the Black Umbrellas incubation programme but are performing exceptionally well.
Black Umbrellas' National Enterprise Development Awards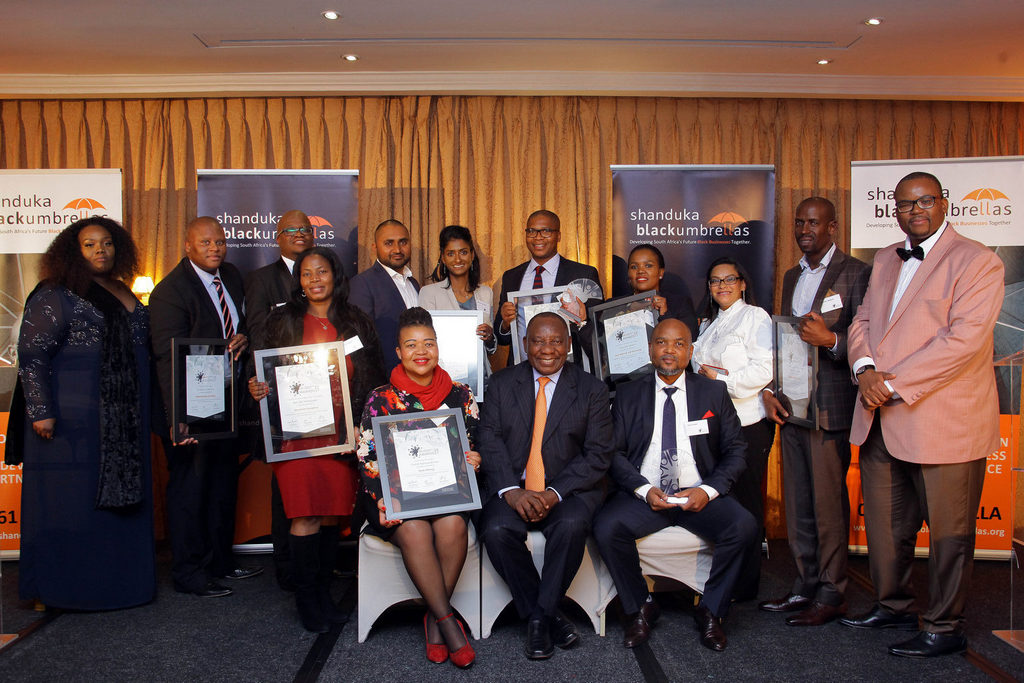 Three of the top five companies at Black Umbrellas' National Enterprise Development Awards in 2018 were co-owned by women, one of which, Modi Mining, went on to win the coveted Sanlam-Business/Partners Entrepreneur of the Year Award. Co-founder of the company, Christina Motlapele Molefi, believes the women are successful "because they are hungry enough, focused and more determined to make it work."
Employee Profiles
The employee profile of Cyril Ramaphosa Foundation and its partner entities, which in addition to Black Umbrellas includes Adopt-a-School, KST and Cyril Ramaphosa Education Trust, is also indicative of the capabilities of women.
Seventy-seven percent of all the Foundation's staff are women.
This, of a staff cohort of 133. Again this is not the result of deliberate affirmative policy, but of merit selection that speaks to the talents, skills and qualifications of women.
So, what are the organisational efficacies of a predominantly women-staffed and led organisation?
In the case of the Foundation, together and consistent with its mission, it makes for a developmental, equitable and supportive work environment.
Striving to be the best workplace for its employees, the Foundation's staff offerings range from study assistance schemes, post-natal leave and flexible working hours, to half-days off on birthdays and popcorn machines.
Such policies and offerings go hand in glove with a commitment to the highest standards of excellence and performance.
A women-led organisation like the Foundation reveals not a binary of so-called male and female traits, but rather an integrated and cohesive organisation more richly in touch with its employees, the sectors in which it works, and society.
– Mmabatho Maboya, CEO, Cyril Ramaphosa Foundation