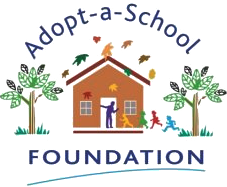 "Education will liberate people out of poverty."
Dr James Motlatsi, Deputy Chairperson, Adopt-a-School Foundation
In 2001, Cyril Ramaphosa was approached by his former primary school, Tshilidzi Primary in Soweto, to assist with the donation of a fax machine. When he returned to his school to hand over the donation and saw the further needs of the school, the notion of the Adopt‐a‐School Foundation was born. In 2002, the Foundation was officially established by a group of concerned individuals including Cyril Ramaphosa and Dr James Motlatsi.
Adopt‐a‐School Foundation was formed with a mission to mobilise the private sector, organisations and individuals to support disadvantaged schools in creating conducive learning and teaching environments.
"They have the right to education – they have the right to be children."
Mrs Ella Matlejane, Principal, Moses Maren Technical Secondary School
WHOLE SCHOOL DEVELOPMENT MODEL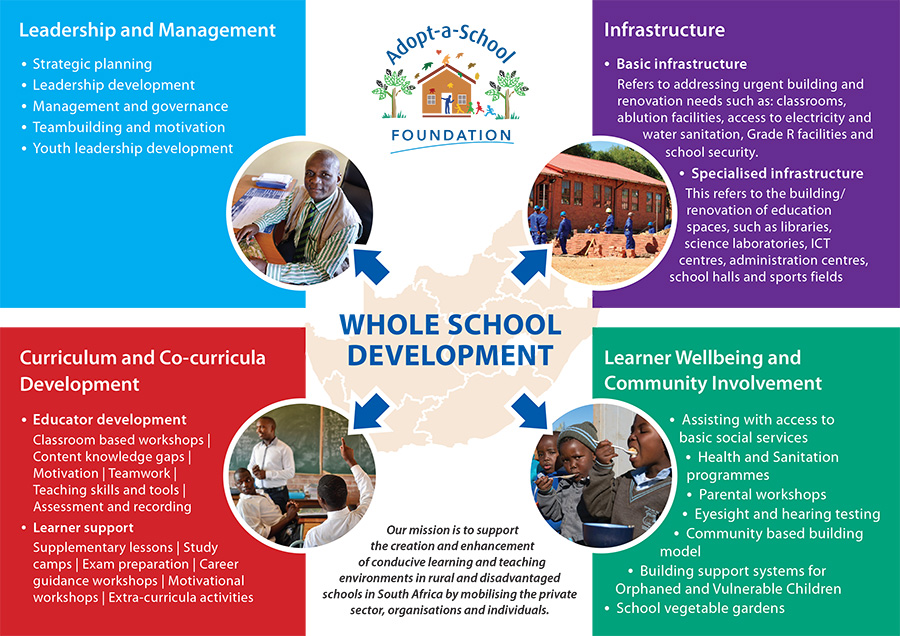 Adopt-a-School uses a Whole School Development model, which recognises that each school has different needs, making strategic planning vital to set the course for success.
Strategic planning sessions enable the school to identify areas of weakness, develop action plans and set performance targets for the years ahead. They have also proven to improve morale and motivation.
Adopt-a-School then partners with other non-governmental organisations (NGOs) and relevant service providers specialising in various fields in the education sector. These include mathematics, science, accounting, management training, librarian training, pre-school (or Grade R) education, literacy and languages.
Adopt-a-School also seeks to address the basic needs of learners by focusing on aspects of social welfare such as health and nutrition.
To address the reality that many learners in South Africa go to school hungry, the Foundation encourages each adopted school to grow vegetable gardens to supplement school feeding schemes. Extra produce is taken home to families in need.
Those eligible for social grants are assisted in making application to the departments of Home Affairs and Social Development for welfare grants, birth certificates and other government services.
Adopt-a-School also runs a visual support programme that provides eyesight testing clinics at schools. This programme supplies spectacles to those with poor eyesight. Learners with more serious ophthalmological conditions are referred to specialist clinics.
The achievements of Adopt‐a‐School are largely made possible by partnerships with over 75 companies that have adopted schools, over 80 NGOs specialising in different sectors of development, and thousands of individuals who have contributed their time, money and skills.
Adopt‐a‐School continues to improve the educational landscape by empowering school communities, raising awareness and connecting private individuals and corporate social investment funds to South Africa's disadvantaged schools.
"I have learnt how important it is to not give up. When I was at Olifantsvlei Primary, I learnt that no matter where you come from, no matter what is happening in your life; with a good education you can do anything. Olifantsvlei Primary School taught me to hope. Moses Maren has since taught me how to set goals and is giving me the tools to achieve them. I believe that knowledge is so important because it is the one thing that no one can ever take away from you."
ADOPT-A-SCHOOL IN NUMBERS
Since its inception in 2002, Adopt-a-school has created positive change in over 200 schools and changed the lives of hundreds of thousands of learners, teachers and communities through its holistic approach to education.
ADOPT-A-SCHOOL FOOTPRINT
Adopt-a-School Foundation works in all nine provinces and in 2012 started working in Mozambique and Lesotho. With your support we can grow our reach and deepen our impact.
GET INVOLVED
We need passionate people to help spread awareness about our work and raise critical funds to help us change lives through education.
Schools, companies and individuals are invited to partner with us to adopt a school in need or specific development programmes within our adopted schools or contribute their time and skills to support our teachers and learners.
Working together we can deepen our impact and give more school children a brighter future.
GET INVOLVED
To support Adopt-a-School, to make a donation or for more information please contact:
Khanyisa Maphaha
Email: kmaphaha@adoptaschool.co.za
Tel: 011 592 6560
Email: info@adoptaschool.co.za